Apprenticeship Opportunities
Amalgamated are one of the leading companies in the Fire and Security industry to recognise the importance of apprenticeships.
Since 2015 Amalgamated have been members of the Trailblazer Apprenticeship Committee, helping create and deliver the Fire, Emergency and Security Systems (FESS), an accredited scheme specifically for the fire and security industry.
Apprenticeships are not just employees undergoing on the job training, they are an important and structured learning programme, the outcome of which is a recognised achievement.
In all cases, Amalgamated supports and ensures that our Apprentices enjoy mandatory 20% off the job training each week to aid their development.
All Amalgamated apprentices attend the Institute for Apprenticeships training programme and following completion of college and on the job training they will complete their apprenticeship boasting an NVQ Level 3 qualification.
More information?
If you're looking for an opportunity to gain hands-on experience, get in touch touch, we would love to hear from you. CONTACT US  for more information.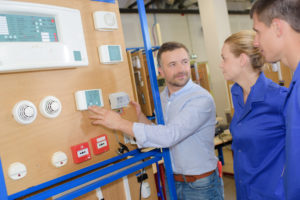 What our customers say
I would like to compliment David from Amalgamated. After I phoned 700, David phoned me the same day to make an appointment to fix my faulty front door. He came the next day and in no time the problem was solved. Since then he has solved long standing door problems for several residents.
Your Housing
I am writing to thank you for your generous donation of the two Computers to our centre. This will be extremely useful in supporting the work of the centre and it is much appreciated. Without donations of this kind we would be unable to provide all the services we offer for the homeless and disadvantaged.
Jane Murphy, Chair of Trustees, Salford Loaves and Fishes
An email to say many thanks to you and Stuart for helping out on Friday afternoon with the sliding door problem. Stewart was good enough to stay and work with the Geze engineer to sort out the problem.
Terry Haselhurst, Project Manager Pochin Construction Ltd
Amalgamated have provided a first class and very open honest approach to the management and have adhered to the working agreements set out. They are also welcome to change and continuous improvement. Regular communication has been set up in the agreed monthly meetings and continual phone and email communications are undertaken.
Simon Bradford Your Housing
I wanted to pass on my thanks for the excellent job your engineers did during their time on site. They were extremely helpful in the way they completed the work so they could ensure we had the minimum of disruption. Please pass on my thanks to all concerned.
John Burgess, Facilities Controller, Mibelle Group
Many thanks for sorting London out - your guys were very helpful and professional. Much appreciated.
Warren Parkinson – Director IFDS